What is the function of insulating crepe paper in transformer?
The insulation of the transformer can be divided into internal insulation and external insulation. The internal in...
The insulation of the transformer can be divided into internal insulation and external insulation. The internal insulation is the insulation of the various parts in the oil tank, and the external insulation is the insulation between the upper part of the casing and the ground, the insulation between each other. Internal insulation can be divided into main insulation and longitudinal insulation. The primary insulation is the insulation between the windings and the ground, the insulation between the windings. In oil-immersed transformers, the main insulation structure is the most commonly used oil-paper barrier insulation structure. Longitudinal insulation is the insulation between the parts of the same winding, such as the insulation between different sections, layers and turns, etc. The distribution of impulse voltage on the windings is usually taken as the basis for the design of the longitudinal insulation of the windings, but the effect of the operating voltage of the power frequency over a long period of time should also be considered for the inter-turn insulation.
The longitudinal insulation of transformer includes three parts: inter-turn insulation, inter-layer insulation and inter-segment insulation. In the design of longitudinal insulation, we need to consider the various voltages acting on the longitudinal insulation and their gradient distribution; The technology in the process of manufacturing the winding of the transformer; The interaction between windings in special cases; The influence of longitudinal insulation on the main insulation, the effect of the gap size on heat dissipation and so on.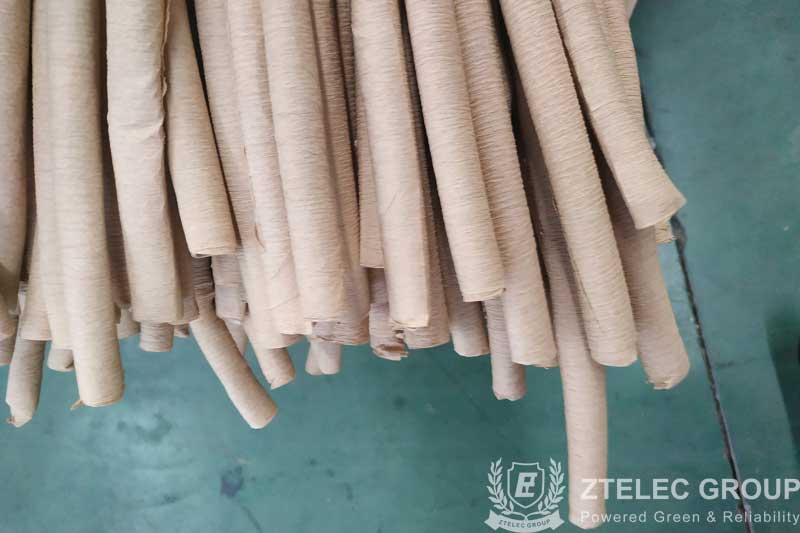 Electrical insulating paper and press paper board have certain physical performance requirements, such as thickness, tightness, strength, elongation and tearing degree. As an insulating paper, it has other characteristics, such as electrical insulation strength, power frequency or DC breakdown voltage, dielectric loss, etc. There are also requirements for chemical indicators such as ash content, water extract conductivity and metal ions. There are special requirements for different electrical insulating paper such as insulation crepe paper.
Electrical insulation crepe paper is mainly used as insulation paper tube, brace, pad, interphase partition, yoke insulation, pad insulation, support insulation and corner ring. This kind of electrical insulation crepe paper is characterized by large tightness, uniform thickness, smooth surface, high mechanical strength, strong toughness and electrical insulation. The main applications are: motor, transformer, winding tube, gasket, capacitor and composite materials.
In fact, there are many insulating materials in nature and artificial environment, and the most common ones are insulating bushing, insulating paper, insulating crepe paper tube, epoxy laminate sheet, rubber, plastic, paint, glass, ceramic, mica, etc. Generally, paper, wood and rubber materials are insulation materials, so there are a lot of derivatives.
Leave us a message to get quotation and sample!
If you are attractive to our products, please send us a message and we will contact you as soon as we receive it. Email: info@ztelecgroup.com whatsApp: +8616650273776