Feature of 20KV Series of Non-Excitation Voltage Regulating Oil-Immersed Transformer
The S9 series of 20KV non-excitation voltage regulating oil-immersed transformer produced by ZTelec Group are the latest series of low-loss copper winding products.
High-quality materials are used in this series of products, and new techniques and materials are used in the coil and insulation, greatly decreasing no-load and on-load loss.
This series of products possess more reliable and superior performance and structure, and have become the main equipment required for the construction and reconstruction of the national urban and rural power grid which are recommended by the State Economic and Trade Commission.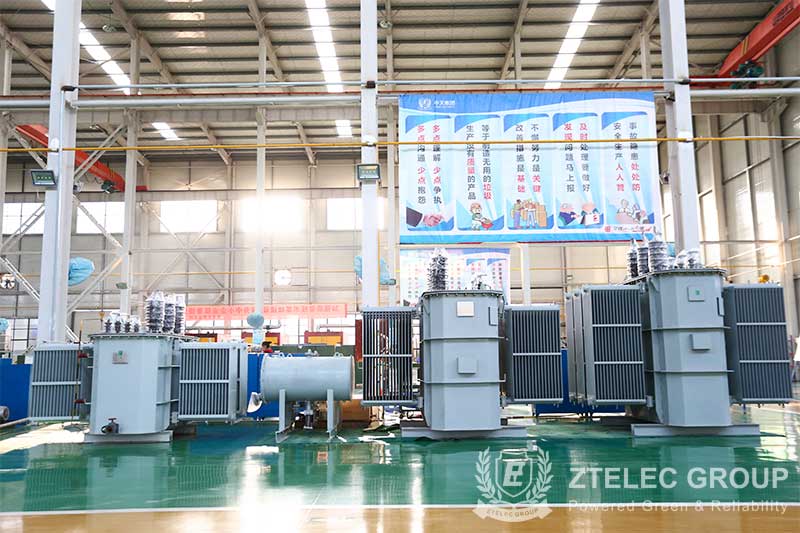 Technical Requirement of 20KV Series of Non-Excitation Voltage Regulating Oil-Immersed Transformer
Environment: -25℃~40℃
Altitude(m): 100 meters or less
Insulation Class: A Class
Frequency(Hz): 50
Tap Range: ±5%、±2*2.5%
Voltage Regulating Mode: No-load Voltage Regulating
Cooling Type:ONAN
Technical Parameter of 20KV Series of Non-Excitation Voltage Regulating Oil-Immersed Transformer
Executive Standard: IEC60076 & National Standard
HV:20     LV:0.4/0.415
Capacity
Connection Group
No-Load Loss W
On-Load Loss
W
No-Load Current
%
Short-Circuit Impedance
%
Y-Connection
D-Connection
50
Yyn0
Dyn11
Yzn11
130
960
1010
2.1
5.5
100
200
1650
1730
1.6
5.5
160
290
2420
2540
1.4
5.5
200
340
2860
3000
1.3
5.5
250
400
3350
3520
1.2
5.5
315
480
4010
4210
1.1
5.5
400
570
4730
4970
1
5.5
500
680
5660
5940
1
5.5
630
810
6820
6820
0.9
6
800
980
8250
8250
0.8
6
1000
1150
11330
11330
0.7
6
1250
1380
13200
13200
0.7
6
1600
1660
15950
15950
0.6
6
2000
1950
19140
19140
0.6
6
2500
2340
22220
22220
0.5
6