Description of Laminates for Insulation Gasket
Steel & Insulation sheet composites (SIC) material is made with combination of Glass Reinforced Epoxy (GRE) and steel core offering the strength and integrity of a mental which also maintains the Isolation characteristics of traditional GRE designs.
This in turn ensures the highest levels of electrical isolation. This material provides excellent solution for resistance and withstand extremely corrosive condition such as CO2, H2S and generally used for high-pressure services.
It is mainly used in the manufacturing of insulating gasket of sealing flange in piping connections from oil, gas, water, chemical and offshore industries.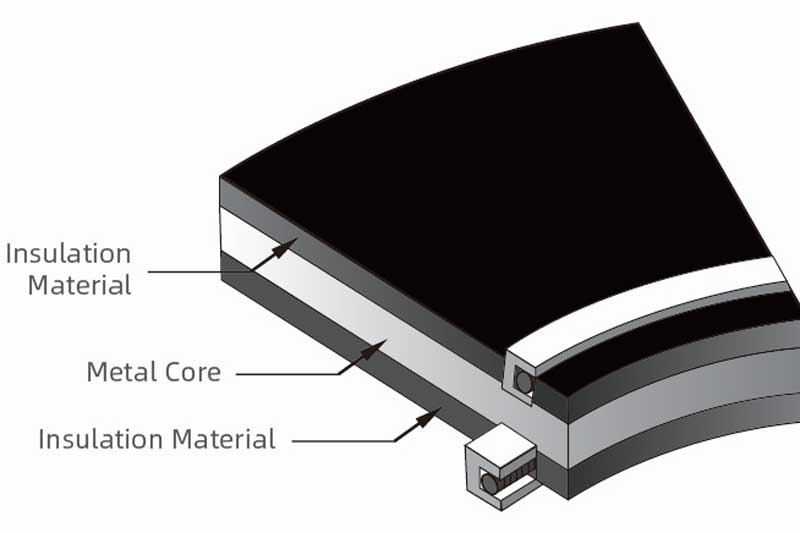 Structure of insulating Gasket Materials
Composition of Laminates for Insulation Gasket

 Metal Core
Attached Stainless Metal Core between Glass Reinforced Epoxy performs superior sealing ability and reinforced insulation characteristic in high pressure. (Max ASME Class 2500) Standard core material is Stainless Steel 316L and other special material options are available depend on client requests.
| | | | |
| --- | --- | --- | --- |
| DIN/EN | TRADENAME | AISI/UNS | TEMPERATURE℃ |
| X5CrNi18-10 | Stainless Steel | 304(s30400) | -200 to +550 |
| X2CrNiMo17-12-2 | Stainless Steel | 316L(s31603) | -200 to +550 |
| X6CrNiMoTi17-12-2 | Stainless Steel | 316Ti(s31635) | -270 to +550 |
| X6CrNiTi18-10 | Stainless Steel | 321(s32100) | -270 to +550 |

 Insulation Material
The laminate material is composed with Glass Reinforced Epoxy (NEMA G10,G11,Fr4,Fr5) for excellent insulation.
It used as sealing materials in flanges to protects from leakage and penetration of fluids induced erosion with deformation.
Name

Water Absorption

Tensile

Strength

Compression

Strength

Dielectric

Values

Max Operating Continous

FR4
3.5 %
12,000 PSI
34,000 PSI
400 VPM
130℃
G7
0.09 %

22,000 PSI

40,000 PSI

400 VPM

200

G10
0.01 %

40,000 PSI

66,000 PSI

800 VPM

130

G11
0.20 %
43,000 PSI
63,000 PSI
900 VPM

180℃
Advantages of Laminates for Insulation Gasket
A. Superior Sealing and Insulating ability.
B. High Pressure (Max ASME Class 2500)
C. Excellent insulation for cathodic protection, galvanic corrosion and other piping isolation products.
D. Protection for electrical corrosion in dissimilar metals.
E. Withstand harsh operating conditions, especially high reliability in corrosive environments.
Special configurations can be manufactured upon request for custom requirements.
Specifications & Tolerances of Laminates for Insulation Gasket
Length*Width*Thickness

 (mm)

Tolerance in Length&Width

(mm)

Tolerance in

Thickness

 (mm)

Color (Available)

Yellow

Green

Others

1020*1220*(5-10)

+-10

√

√

√

1020*2020*(5-10)

+-20

√

√

√

1220*2440*(5-10)

+-25

√

√

√
Video of Laminates for Insulation Gasket
Application of Laminates for Insulation Gasket
Insulation gasket for special flanges:
a. Dissimilar metal flange connections to mitigate galvanic corrosion
b. High pressure flowlines/wellheads for isolation
c. Flange isolation in conjunction with cathodic protection systems
d. Critical service, fire safe sealing requirements
e. Flange protection against crevice corrosion
Pictures of Application Industry