Feature of 20(10KV) Series of Double High-Voltage Convertible Dry-Type Transformer
When a series of dry-type transformers is connected to a line voltage of 20KV or 10KV, the connection state between two windings of each phase high-voltage coil is controlled by a conversion device, and the purpose of voltage conversion is achieved in series or parallel, while the output voltage is constant, thereby realizing a transformer product can be connected to the 10KV, 20KV class two voltage systems during the non-synchronous period.
It is a transitional product when the network power 10KV will be upgraded to 20KV. It can reduce the repetitive investment but convenient and quick conversion and also has stable product performance.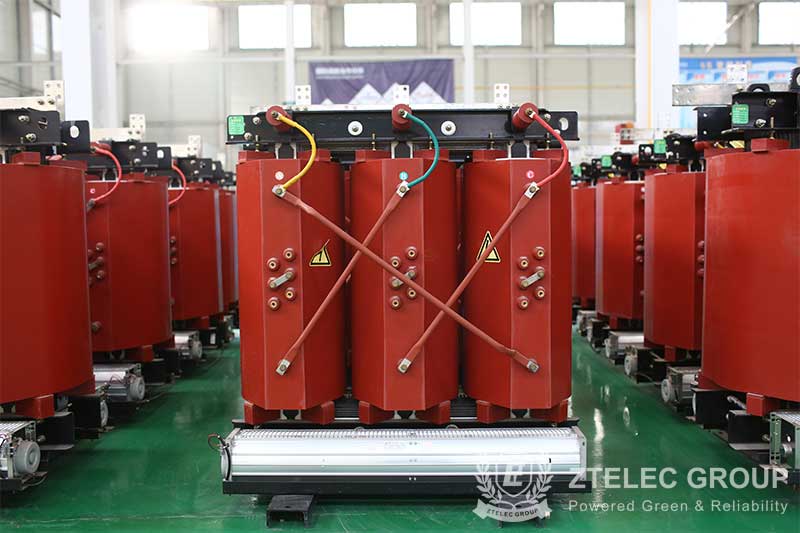 Technical Requirement of 20(10KV) Series of Double High-Voltage Convertible Dry-Type Transformer
Environment: -25℃~40℃
Altitude(m): 100 meters or less
Insulation Class: F Class
Frequency(Hz): 50
Tap Range: ±5%、±2*2.5%
Voltage Regulating Mode: No-load Voltage Regulating
Cooling Type: AN/FN
Technical Parameter of 20(10KV) Series of Double High-Voltage Convertible Dry-Type Transformer
Executive Standard: IEC60076 & National Standard
HV:20/22/24   LV:0.4/0.415
Capacity
Connection Group
No-Load Loss W
On-Load Loss
W
No-Load Current
%
Short-Circuit Impedance
%
250
Dyn11
900
3150
2
6
320
1050
4200
2
6
400
1100
4900
2
6
560
1320
6000
2
6
630
1600
6500
2
6
750
1900
770
1.5
5.6
800
1900
8500
1.5
6
1000
2200
10000
1.5
6
1250
1650
11000
1.5
6
1500
2900
11426
1.5
5.6
1600
2900
13000
1.5
6
2000
3500
16000
1
6
2500
4300
19000
1
6
3000
4900
22000
1
6
3200
5200
23000
1
6
3500
5700
25000
1
6
4000
6200
27000
1
6.5