Feature of 35KV Series of On-Load Voltage Regulating Oil-Immersed Power Transformer
This series of on-load voltage regulating oil-immersed power transformers strictly implement the National "Technical Guidelines for Power Systems", and can directly supply power to the power supply center.
With the premise of achieving on-site balance of reactive power partitions, the regional load increases or decreases, the products cooperate with the switching of parallel capacitors and low-voltage reactors of reactive power compensation equipment and adjust the taps, so as to ensure the voltage quality of the power supply to users at any time.
In addition to small-capacity transformers use layer coils, large-capacity transformers use continuous coil structures for high and low voltages. The longitudinal capacities of terminal are well distributed, effectively improving the voltage at the ends, balancing the distribution of ampere-turns,as well as having low magnetic leakage, high mechanical strength, and strong ability to withstand short-circuits.
The transformer body and the general assembly are vacuum-dried and vacuum- oiled in order to fully guarantee the transformer's electrical property.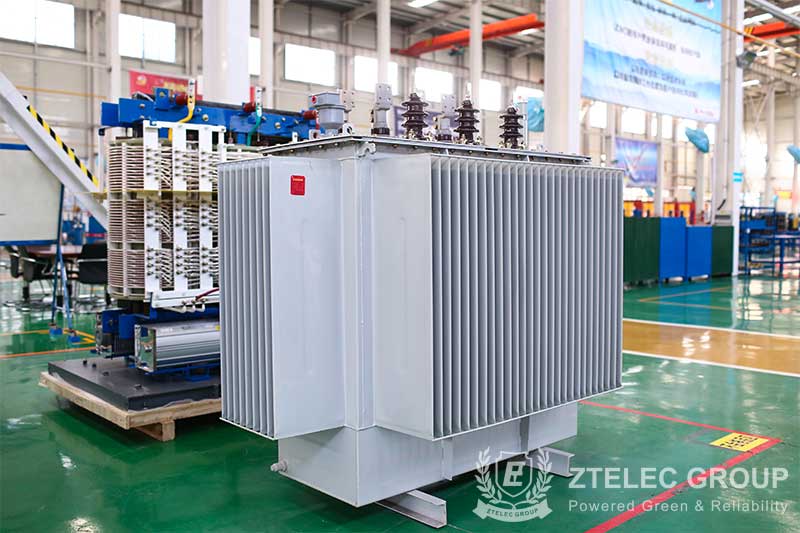 Technical Requirement of 35KV Series of On-Load Voltage Regulating Oil-Immersed Power Transformer
Environment: -25℃~40℃
Altitude(m): 100 meters or less
Insulation Class: A Class
Frequency(Hz): 50
Tap Range: ±5%、±2*2.5%
Voltage Regulating Mode: No-load Voltage Regulating
Cooling Type:ONAN
Technical Parameter of 35KV Series of On-Load Voltage Regulating Oil-Immersed Power Transformer
Executive Standard: IEC60076 & National Standard
HV:35/38.5      LV:0.4/0.415
Capacity
Connection Group
No-Load Loss W
On-Load Loss
W
No-Load Current
%
Short-Circuit Impedance
%
Y-Connection
D-Connection
50
Yyn0
Dyn11
160
1140
1200
1.3
6.5
100
230
1910
2010
1.1
6.5
160
280
2680
2820
1
6.5
200
340
3160
3320
1
6.5
250
400
3760
3950
0.95
6.5
315
480
4530
4750
0.95
6.5
400
580
5470
5740
0.85
6.5
500
680
6580
6910
0.85
6.5
630
830
7860
7860
0.65
6.5
800
980
9400
9400
0.65
6.5
1000
1150
11500
11500
0.65
6.5
1250
1400
13900
13900
0.6
6.5
1600
1690
16600
16600
0.6
6.5
2000
1990
19700
19700
0.55
6.5
2500
2360
23200
23200
0.55
6.5