Feature of 10KV Series of Epoxy Resin Cast Dry-Type Distribution Transformer
This series of thin-insulation dry-type distribution transformer with fillers whose winding is encapsulated by epoxy resin are flame-retardant,fire-proof, explosion-proof, maintenance-free, pollution-free, small in size, and can be directly installed at load center.
Meanwhile, because of their scientific and reasonable design and casting system, they have the features of low partial discharge, low noise and good heat dissipation, as well as can be operated under 140% of rated load in the condition of forced air cooling.
Transformers are equipped with intelligent temperature controller to conduct centralized monitoring and control on them.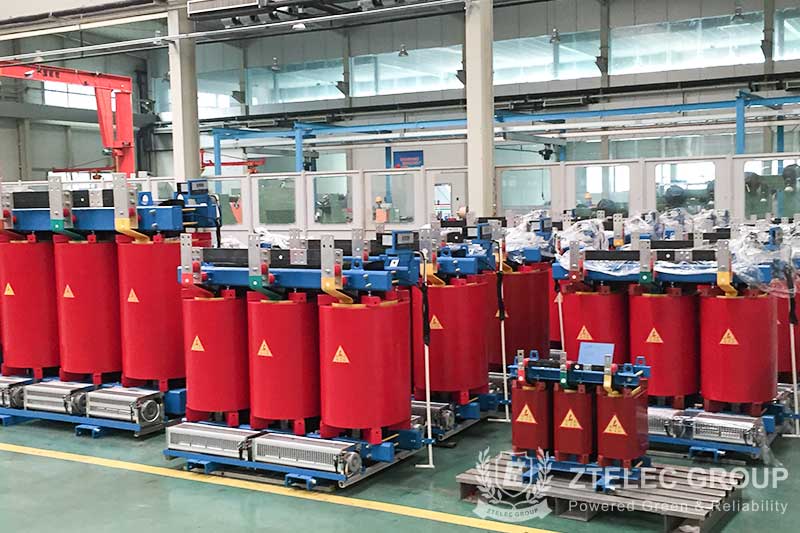 Technical Requirement of 10KV Series of Epoxy Resin Cast Dry-Type Distribution Transformer
Environment: -25℃~40℃
Altitude(m): 100 meters or less
Insulation Class: F Class
Frequency(Hz): 50
Tap Range: ±5%、±2*2.5%
Voltage Regulating Mode: No-load Voltage Regulating
Cooling Type: AN/FN
Technical Parameter of 10KV Series of Epoxy Resin Cast Dry-Type Distribution Transformer
Executive Standard: IEC60076 & National Standard
HV:11/10.5/10/6.6/6.3/6  LV:0.4/0.415
Capacity
Connection Group
No-Load Loss W
On-Load Loss
W
No-Load Current
%
Short-Circuit Impedance
%
30
Yyn0
Dyn11
190
710
2
4
50
270
1000
2
4
80
370
1380
1.5
4
100
400
1570
1.5
4
160
540
2130
1.3
4
200
620
2530
1.1
4
250
720
2760
11
4
315
880
3470
1
4
400
980
3990
1
4
500
1160
4880
1
4
630
1340
5880
0.85
4
800
1520
6960
0.85
6
1000
1770
8130
0.85
6
1250
2090
9690
0.85
6
1600
2450
11700
0.85
6
2000
3050
14400
0.7
6
2500
3600
17100
0.7
6