Description of Electrical Pressboard 
Electrical pressboard is made of 100% sulphate wood pulp with high purity and processed at high pressure.
Electrical pressboard has high mechanical strength and good compatibility with transformer oil. It is used in oil-immersed transformers, reactors, capacitors and switches, etc
High density electrical pressboard has greater tightness, smaller shrinkage and good evenness. It is mainly used in transformers, capacitors, mutual inductors and other equipment (oil gap pad for cake winding, partition, cardboard tube, corrugated paper, iron yoke insulation, clip insulation and end insulation winding clamp plate, etc.).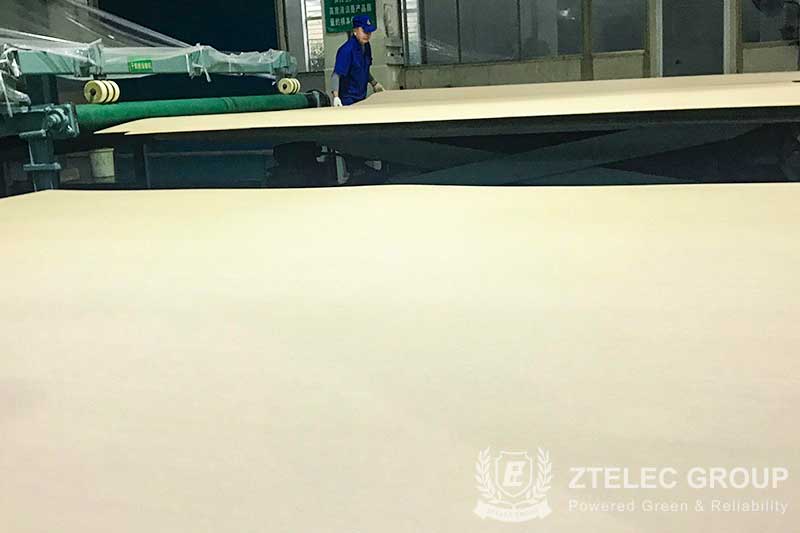 Specification of Electrical Pressboard
Common specification: thickness: 0.5/1/2/3/4/5mm
Regular length * width: 1000*2000
Other length * width: 3200*1600/3200*2100/3200*4200/2260*1470/2200*1130
Product standard:GB/T19264.3-2003 IEC60641-3-1992
Number
Index name
Unit
Electrical pressboard
High density board
1mm
2mm
3mm
4mm
5mm
≤1.6mm
>1.6~3.0mm
>3~6.0mm
>1.6~8.0mm
Index
1
Thickness & tolerance
%
±7.5
±5.0
±7.5
±5.0
2
Apparent density
g/m2
1.0~1.2
1.0~1.2
1.10~1.25
1.15~1.30
1.20~1.30
3
Moisture content
%
≤8
≤6.0
4
Water extract PH
—
6.5-8.5
5
Ash content
%
≤1.0
6
Oil absorbency
%
≥10
≥9
7
Contamination for transformer oil
No pollution
8
Tensile strength
MD(Longitudinal )
N/10mm
≥110
≥105
CD(transverse)
≥80
≥85
≥80
≥80
9
Elongation
MD(Longitudinal)
%
≥7.0
≥3.0
CD(transverse)
≥9.0
≥4.0
10
Shrinkage
MD(Longitudinal)
%
≤0.7
≤0.5
CD(transverse)
≤1.0
≤0.7
       (Thickness)
≤5.0
≤5.0
11
Electric strength
In air
KV/mm
≥10
≥11
In Oil
≥40
≥30
≥25
≥40
≥35
≥35