Regular thickness: 0.5-50mm
Colour: Black
Regular size: 1020*1220/1220*2040mm
Black anti-static fiberglass board, produced by ZTelec Group taking high-quality fiberglass cloth and anti-static resin with high mechanical strength as raw materials.
Why Choose ZTelec Group's FR4 Black Anti-static Fiberglass Board
 ZTelec Group is equipped with advanced production equipment and full automatic production line and can meet the customers' demands of mass production. Its quality is recognized by domestic and foreign large enterprises such as Lens Technology in China and Schneider Electric and sold overseas such as European and American areas.The mechanical and electrical properties of products are superior to the similar one of other companies.

 Uniform appearance and color

 Small thickness tolerance with strict manufacturing technology.

 It possesses stable anti-static performance,

 High mechanical strength

 Excellent processability

 Thermal and moisture resistance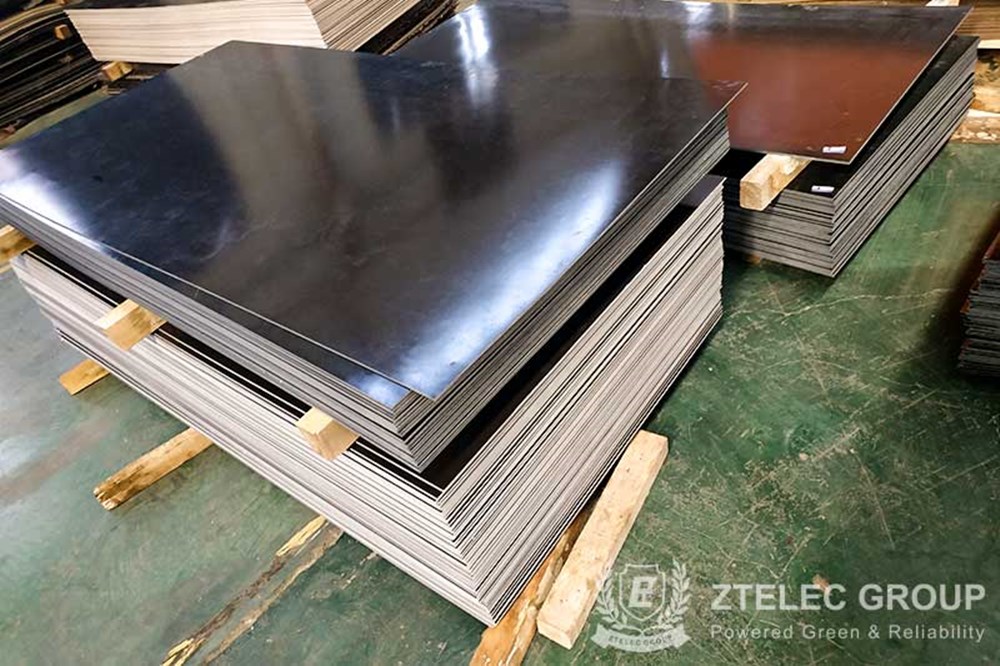 Advantage of FR4 Black Anti-static Fiberglass Board

Application of FR4 Black Anti-static Fiberglass Board
Anti-static board possesses good anti-static effect that can be divided into local effect of product surface and overall effect of the whole product with equal anti-static value of every part, the former is suitable for making worktable, and the later is suitable for making moulds and fixtures and so on.
Black anti-static fiberglass board can be widely used in the construction of factory building (semiconductor, LCD, electronics, optics and medicine, etc.), shelter of equipment in the clean room, spatial partition of clean room, clean equipment, observation window and equipment cover, electronic test fixture, etc.

Parameter of FR4 Black Anti-static Fiberglass Board(
GB/T1 303.2-2009IEC60893-2:2003
)
| | | | | |
| --- | --- | --- | --- | --- |
| Item | Property | Unit | Requirement | Testresult |
| 1. | Density | g/cm3 | —— |   1.96 |
| 2. | Water absorption | mg | —— | 6.7 |
| 3. | Flexural strength perpendicular to laminations |   MPa |   —— |   507 |
| 4. | Charpy impact strength parallel to laminations(Notched) |   kJ/m² | —— |   49.9 |
| 5. | Electric strength perpendicular to laminations (at90C±2℃ in 25#transformer oil,20s step-by-step test,φ25mm/φ75mmcylindrical  electrode) |       kV/mm |       —— |   4.1 |
| 6. | Breakdown voltage parallel to laminations(at 90℃±2°℃in 25#transformer oil,20s step-by-step test,φ130mm/φ130mm plate electrode) | kV |       —— |   11.0 |
| 7. | Relative Permittivity(50Hz) | —— | —— | 32.6 |
| 8. | Dielectric dissipation factor(50Hz) | —— | —— |   11.1 |
| 9. | Insulation resistance after immersion in water(Taper pin electrodes, 25.0mm gap) | Ω | —— |   1.3X107 |
| 10. | Flammability(vertical method) | Class | —— | V-0 |
| 11. | Surface resistance | Ω | —— | 4.5×106 |