Description of Diamond Dotted Insulating Paper
Diamond dotted insulating paper is one of insulating materials, which is made of electrical Kraft paper coated on one side or both sides with modified special epoxy resin in diamond-shaped form. It has higher electrical strength and mechanical property.
Application of Diamond Dotted Insulating Paper
It is widely used in layer-to-layer insulation and turn-to-turn insulation for oil-immersed power transformer, as well as shielding isolating layer of cables, and anti-corona material for high voltage motors and electrical equipment.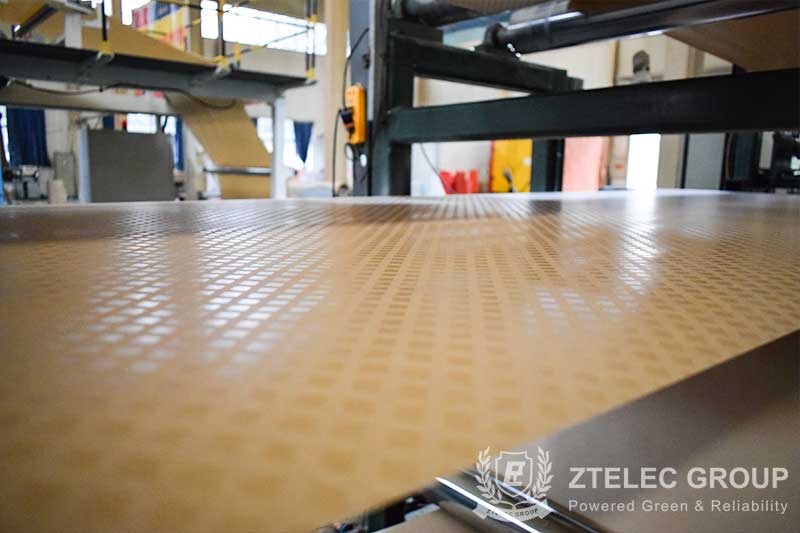 Application of Diamond Dotted Insulating Paper
When diamond dotted insulating paper, produced by ZTelec Group, is used, the coated layer begins to melt at a certain temperature during the drying process of coil, meanwhile results in adhesion, and then solidifies as the temperature increases making the adjacent layers of winding bonded firmly into a fixed unit.
The bonding strength of epoxy resin is sufficient to prevent the displacement of winding layers due to short circuit force so as to ensure the electrical and mechanical properties of insulating structure in the long-term operation.
The diamond-shaped coated layer of resin ensures the immersion of oil and the discharge of air in the insulating material, effectively avoiding corona and partial discharge, thereby ensuring the safety and reliability of insulating structure.
PDF DOWNLOAD:Parameter of Diamond Dotted Insulating Paper