Description of Colorful G10 Fiberglass Laminated Board

Colorful G10 fiberglass laminated board is also called epoxy resin alkali-free fiberglass laminated board. It is made by electronic grade fiberglass cloth impregnated with heat-resistant epoxy resin under hot pressing with stable electrical insulation property, good flatness, smooth surface and standard thickness tolerance. Colorful G10 fiberglass laminated board produced by ZTelec Group has various colors and types and its insulation class is F class.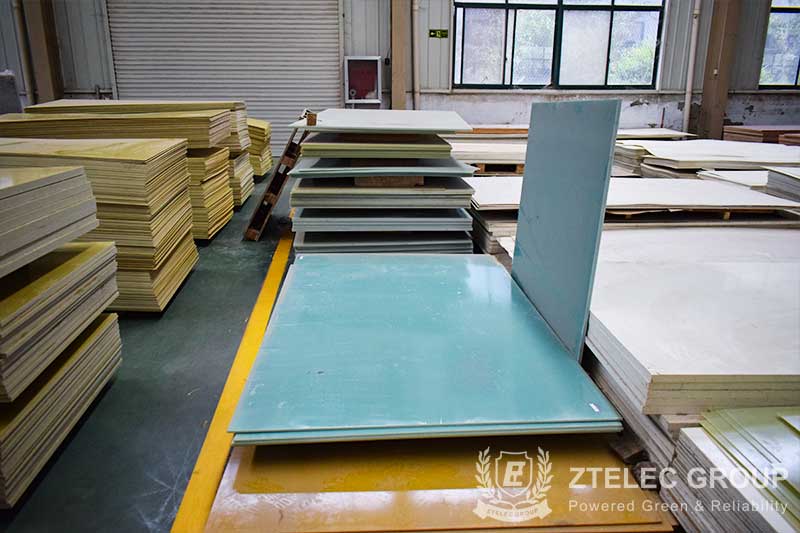 Why Choose ZTelec Group's Nema G10 Epoxy Fiberglass Cloth Laminated Board:
1、 Automatic Coating: Glue evenly, strictly control PP sheet move.
2、 Fully automatic special equipment: Without one machine multi-purpose, which can guarantee product quality stability.
3、 Quality testing: Strict factory inspection, total quality management TQM
4、 Processing Service: According to your requirements, we process and customize on time and quality
5、UL,SGS and ROSH certificates are complete, and sample testing can be provided
ZTelec Group's Nema G10 Sheet VS Other manufacture's G10 Sheet: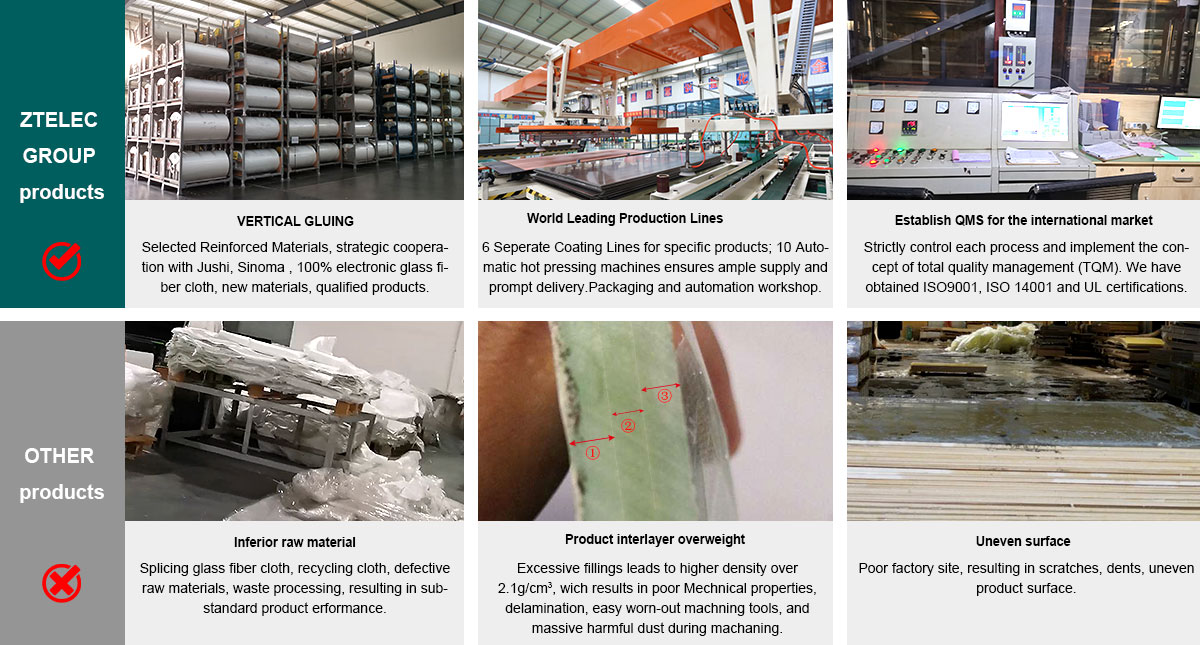 Application of Colorful G10 Fiberglass Laminated Board
It is suitable for products with high requirements on electronic insulation performance,for example, FPC reinforced board, high temperature resistant board for wave soldering,precision star wheel, PCB test stand, deflection coil terminal board, electronic switch insulation board, copper clad plate substrate, etc. It can also be used to make insulation partitions and pads for electrical equipment, insulation parts for transformer and motor, etc.

Parameter of Nema G10 Fiberglass Laminated Board:
Trade Name

G10 Epoxy Fiberglass Laminates

Comply Wth Standard

IEC 60893-3:2003 /GB/T 1303.4-2009

Colour

Green Yellow Black

Standard size

1020*1220,1220*2020,1220*2440,1020*2020 (Support Customization)

Application

E-Motors, batteries, semiconductors, Solar panels, Carriage wheel, transformers, solar back panels, home appliances, isolation blocks, etc.

Main

Characteristics

Density

G/Cm3

1.95-2.05

Flammability

Ul94

Na

Water Absorption (5mm)

%

≥ 0.06

Chemical Family

Resin

Exopxy

Reinforcement Type

Glass Fabrics

7628

Thermal Charactersitices

℃

130

Mechanical

Characteristics

Bending Strength

Mpa

≥400

Tensile Strength

Mpa

≥300

Compressive Strength L

Mpa

≥400

Modulus Of Elasticity

Mpa

≥24000

Impact Strength

Kj/M2

≥33

Electrical Data

Electrical Strength

Kv/mm, Thickness<3mm

≥10.2

Electrical Strength

kV

≥40

Tracking Resistance

PTI

≥200
Tolerance of Nema G10 Epoxy Fiberglass Laminated Board:
| | | | |
| --- | --- | --- | --- |
| Thickness (Mm) | Tolerance (Mm) | Thickness (Mm) | Tolerance (Mm) |
| 0.5 -0.8 | ±0.05 | 6.0 -8.0 | ±0.35 |
| 1.0 -1.8 | ±0.1 | 10.0 -15.0 | ±0.60 |
| 2.0 - 2.8 | ±0.15 | 16.0 - 20.0 | ±0.85 |
| 3.0 -5.0 | ±0.20 | 21.0 -50.0 | ±1.60 |
FR4 VS G10:
1.The color, parameter and properity is similar between g10 and fr4
2.The difference is fr4 with flame retardant properties, and the flame retardant grade is UL94-V0 grade (after 10 seconds of burning test, the flame is extinguished within 30 seconds, no burning matter falls). G10 is not.
3.FR-4 is the grade most widely in use today. G-10, the predecessor to FR-4, lacks FR-4's self-extinguishing flammability characteristics. Hence, FR-4 has since replaced G-10 in most applications.
Video of Nema G10 Epoxy Fiberglass Laminated Board: