Description of DMDP Insulating Paper
DMDP insulating paper , also known as DMD epoxy preimpregnated material, is created by polyester film and polyester fiber non-woven flexible composite material (F class DMD) , soaked in modified epoxy resin with thermal resistance, and then baked. The epoxy resin coated on it contains active groups like epoxy group, amino group, which can solidify rapidly at middle and high temperature, and bond firmly with copper coil without low molecular volatile matters during drying and curing so as to form insulating structure with extremely small shrinkage.
Application of DMDP Insulating Paper
It can be widely used in layer-to-layer insulation of low voltage coil for dry-type transformer, as well as slot insulation and phase-to-phase insulation for F class motors.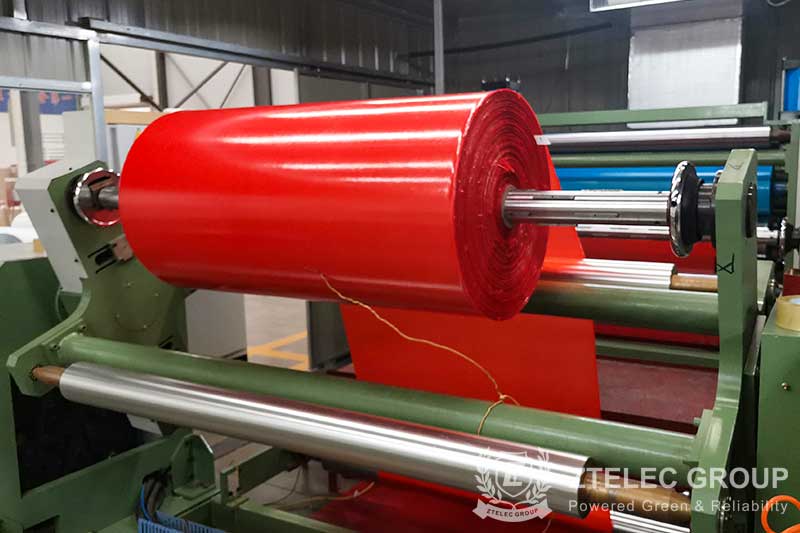 Advantage of DMDP Insulating Paper
DMDP insulating paper, produced by ZTelec Group taking F class DMD and modified epoxy resin with thermal resistance as raw materials, has improved dielectric property and mechanical rigidity and toughness, good adhesive property, good thermal and oil resistance, and excellent insulation performance. This product has the advantages of reliable quality, uniform color and neat cutting ends with strict manufacturing technology. Meanwhile, ZTelec Group is equipped with advanced ventilation facilities and dust-removing equipment to keep the products dry and clean. The mechanical and electrical properties of products are superior to the similar one of other companies. Its quality is recognized by domestic and foreign large enterprises such as Lens Technology in China and Schneider Electric and sold overseas such as European and American areas.
Property Parameter of DMDP Insulating Paper
Number
Name
Unit
Value
1
Nominal Thickness
mm
0.16
0.18
0.2
0.23
0.25
2
Allowable Thickness Tolerance
mm
±0.030
±0.035
3
Quantification(±10%

)

g/m

2

195
220
245
275
315
4
Tensile Strength
N/

10mm

≥40
≥70
≥80
≥100
≥120
Lengthwise and Non-bending
5
Electrical Strength
MV

/m

≥40
6
Resin Content
%
35±5
30±5
7
Volatile Matters Content
%
≤1.5
8
Soluble Resin Content
%
≥90
9
Tensile and Shear Strength
MPa
≥5.0
10
Thermal Index
-
≥155
Leave message to us!
If you are attractive to our products, please send us a message and we will contact you as soon as we receive it.